Posted by
admin

| Posted in Trees | Posted on June 4, 2008
I know it may be hard to appreciate what is going on here with just these cropped photos, but Ryan and I spent a few hours this past Sunday trimming back this enormous shrub in our front yard.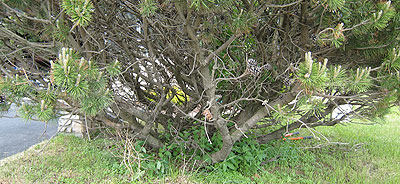 It went from WILD to WOW!  What you see here is only the base of it.  This super-wide evergreen reaches over 7′ high.

Thanks go to my Mom for this clean-up idea.